Kamila Valieva has missed out on the medals in the women's figure skating competition at the Beijing Winter Olympics, after succumbing to the huge pressure she was under at the Capital Indoor Stadium.
The 15-year-old Valieva, who failed a drug test back in December — the result of which was not known until February — was controversially allowed to skate in Beijing after a decision by the Court of Arbitration for Sport (CAS).
But in a dramatic free skate finale she slipped several times and fell twice to finish behind rivals, fellow ROC skaters Anna Shcherbakova and Alexandra Trusova and Japan's Sakamoto Kaori.
With Valieva failing to make the podium, the medal winners were presented with their prizes at the conclusion of the drama on the ice and will receive their medals Friday morning.
The IOC said no medals would be presented had Valieva made the top three.
Medals for the team event — won by the ROC before Valieva was made aware of her positive drug test — will not be presented until after RUSADA concludes its investigation into the test result.
WADA has also demanded that RUSADA investigates her support team, given that the skater is just 15 years old.
WADA president Witold Banka said on Wednesday that "the doping of children is evil and unforgivable, and the doctors, coaches and other support personnel who are found to have provided performance-enhancing drugs to minors should be banned for life".
The IOC might have been saved from its awkward absent medal ceremony, but that discomfort was simply shifted forward into the excruciating four minutes of pain as Valieva stumbled through her routine.
Sympathy in early reactions
Gold medal winner Shcherbakova said: "[I] probably did not understand what I was experiencing" as she watched Valieva's performance.
Former US figure skaters Polina Edmunds and Ashley Wagner both wrote on social media that Valieva should not have been competing at all.
Loading
"Very traumatizing Olympic experience for Kamila Valieva," Edmunds wrote.
Valieva landed her first quadruple jump but struggled with her next triple, sparking a cavalcade of errors that had the crowd first gasping, then stunned into awkward silence at the increasingly uncomfortable spectacle.
All the pressure was surely too much for one person to bear – not least a 15-year-old girl whose vulnerability burst through for all to see at the end of her error-strewn routine.
CAS said in its well-publicised ruling that to ban Valieva would "cause her irreparable harm".
Yet it is hard to see what good would come of allowing a broken and defeated child to compete under such intense scrutiny.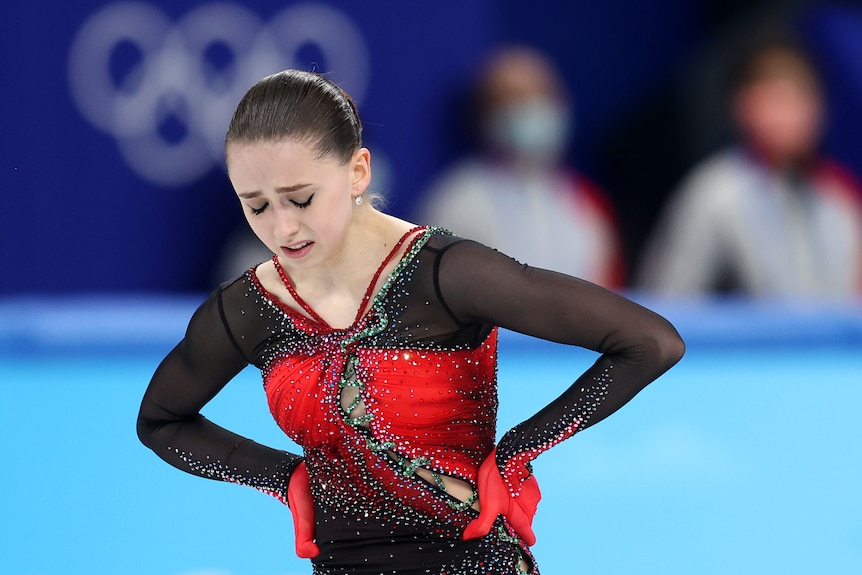 Valieva completely broke down seconds after the music stopped, her emotion there for all to see.
In the so-called kiss and cry area while waiting for her scores, Valieva again tragically held onto her stuffed animal, eyes down as she sobbed, looking like she wanted to be anywhere but in the situation that she found herself.
As her score of 141.93 was revealed, which left her more than nine points out of the medals, she leaned into her choreographer, Daniil Gleikhengauz and continued to sob uncontrollably, with coach Eteri Tutberidze sitting with an arm around her on the other side.
Barely minutes later, the three medallists received their prizes on the ice as Valieva disappeared into the bowels of the Capital Indoor Stadium.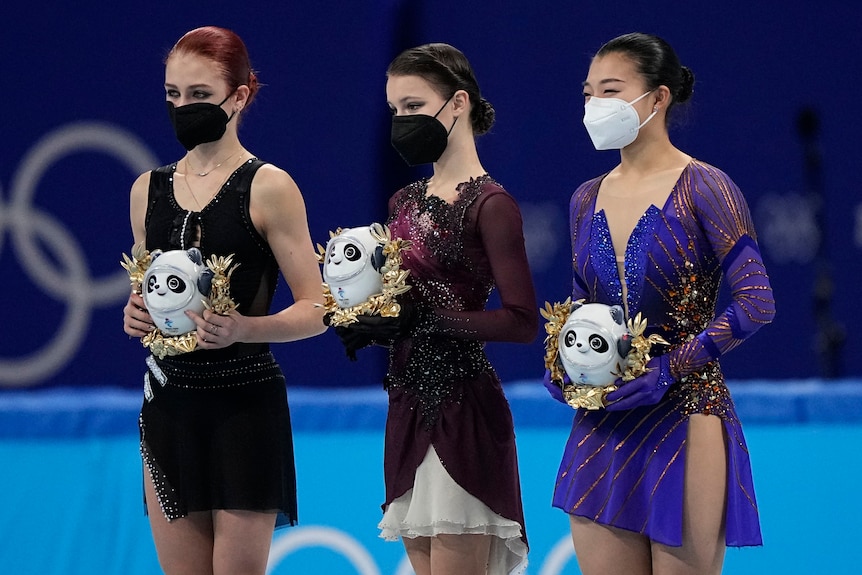 Valieva's time at this Olympics, a time that was supposed to end in her being crowned as figure skating's newest star, is over.
But the storm of all that she has gone through, with the investigation likely to drag on indeterminably, is far from finished.